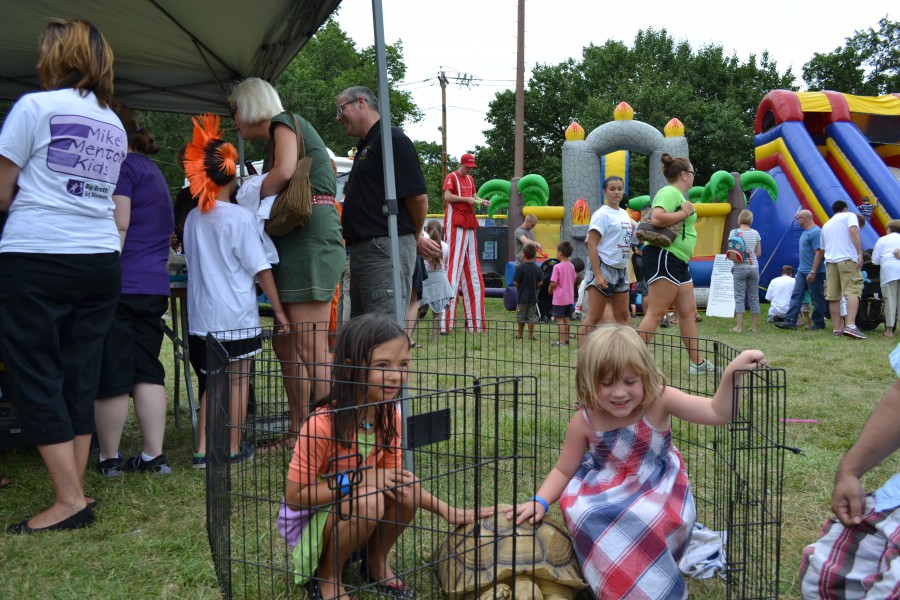 Children meet a tortoise and stilt walkers entertain at Family Fest
Family Fest
Last year's Kroger Family Fest @ SharonFest was such a hit, we had to do it again for 2016.
Family Fest takes place during SharonFest's Saturday afternoon, from 4pm to 6pm. We will have jugglers, stilt walkers, balloon artists and a magician from the Cincinnati Family Circus walking around the festival entertaining the crowd. They were a big hit last year.
All four of the Reds' mascots will be paying us a visit. Mr. Redlegs, Rosie Red, Mr. Red and Gapper will be greeting families throughout SharonFest and posing for pictures. Watch out for Gapper, since he might decide he wants to play on the rides.
Cool Critters will also be back with their rescued animals. They will give children (and adults) a chance to have a close encounter with a variety of animals like snakes, a tortoise, rabbits and other animals that they have rescued from around the Tri-State area.
Kids 12 and under can get a free hot dog and chips during Family Fest.
Oh, and we will still be having musical entertainment in the Kroger Dining Tent as well as dancing and cheerleading demonstrations in front of the Alleen Company Main Stage.